Header Flames & Famous Names — a series highlighting SCE's favorite racers and friends.
---
BDS Motorsports Sprint Team
"Over the years, our drivers and cars may have changed, but one thing that remains the same is relying on great SCE products each and every year.​"
BDS Motorsports is a family-owned sprint car racing team based in Newton, Iowa. Formed in 2011, BDS Motorsports is managed by Bryan Sundby and the current team driver is former ASCS Champion, Travis Rilat from Forney, Texas. After forming BDS Motorsports, Sundby spent a year away from the team in 2012 serving as Crew Chief for the legendary Sammy Swindell. Together they earned 14 wins during the 2012 season. Then in 2013, Sundby returned to his own team and immediately BDS became a threat to the front-runners. BDS driver Justin Henderson claimed a podium finish in the 2013 Knoxville Nationals – the most prestigious race in all of sprint car racing. From 2014 through 2016, the BDS team competed weekly at the famed Knoxville, Iowa Raceway, earning several feature wins, two 360 division championships, and two third-place finishes in the 410 division point standings. In more recent years, BDS has traveled extensively following the ASCS National Sprint Car Tour. In 2019, BDS fielded cars for both Rilat and younger drivers looking to gain experience in sprint car racing.  
Much has changed for BDS over the past eight years, however, one constant is the team's reliance on great products from SCE Gaskets. Since the relationship began, BDS and SCE have worked closely on product development to meet and exceed the high performance demands of championship Sprint Car Racing.  With SCE's knowledge in the gasket world and BDS' ability to test products in a brutal racing environment, the partnership has continued to grow each year. Team owner Sundby states, "we are proud to represent SCE Gaskets and have them as part of our race team. We work together like a family, rather than just a sponsor partnership."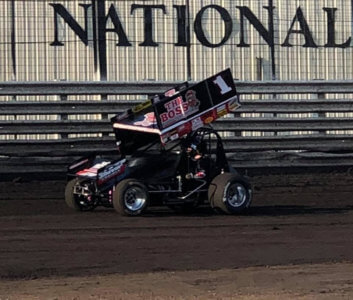 Sundby tells this story of the relationship – in the fall of 2017, BDS ran both the 360 and 410 winged sprint cars at the Clay County Fair in Spencer, Iowa; which also happened to be the home of SCE Gaskets before moving to Tennessee. The team driver at that time was Giovanni Scelzi, a California Racing sensation.  It was the fair week race with the IRA 410 series and the UMSS 360 racing series. The whole SCE Gaskets family came out to that race, which Sundby believed was BDS Motorsports' first competition at the fairgrounds. Giovanni and his father Gary Scelzi, a former NHRA Champion drag racer (who always traveled with his then-16-year-old son) met Ryan and Aaron Hunter of SCE Gaskets. Gio did a nice job that evening qualifying second in the 410 event, which was his first 410 race for BDS Motorsports, then won the heat race and went on to run third in the feature. His 360 effort was also very good as he won his heat race, started fourth in the feature and but spun out passing for the lead on lap eight of 25. By bringing out the caution Gio had to go to the tail of the field, but he rallied back from 24th to a ninth-place finish. The entire night was really fun as and the SCE Gaskets family was impressed by the effort and results of the BDS Motorsports team. Gio finished off a great night by signing a front wing for Ryan and Aaron which now graces a wall of the SCE Gaskets Manufacturing facility. 
Over the years, the drivers and cars of BDS Motorsports have changed but one thing remains the same; a firm reliance on great SCE Gaskets products. What started as a sponsor partnership has grown into a close and friendly working relationship. BDS is proud to represent such a great company with awesome quality products and looks forward to continuing the relationship long into the future.  
Web Links:
» www.BDSmotorsportsLLC.com

» Facebook / Instagram / Twitter / Youtube
» Read more HFFN posts:  SCEgaskets.com/news