Header Flames & Famous Names — a series highlighting SCE's favorite racers and friends.
"In my over 25 years of top fuel racing, I was very fortunate to develop relationships with some great people and great companies. Ryan Hunter and SCE Gaskets were there with me throughout my racing career helping us win races and develop products that made our race cars perform better, not to mention working with my performance parts company to make quality products that we could sell to customers with confidence and good margins. I am very thankful for Ryan's friendship and SCE's support!" -Doug Herbert
Doug Herbert: Top fuel Racer, MRN Radio host, and B.R.A.K.E.S. Founder. His industry involvement is making a difference in the world of NHRA and beyond.
SCE Gaskets' association with Doug Herbert and his Snap-on Tools sponsored top fuel car began in 1993. Doug was by then a 4-Time IHRA champion and just beginning to leave his mark on NHRA top fuel competition.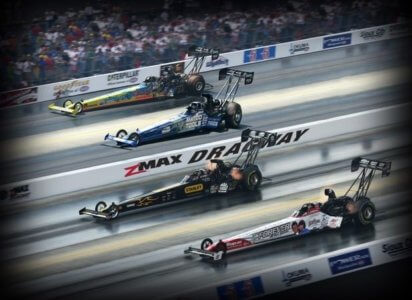 For Doug, becoming a star in racing was somewhat of a birthright as his father, Chet Herbert was a SoCal racing innovator, one of the first mail-order speed parts merchants and an inductee of the International Drag Racing Hall of Fame. Chet's inventions, including the first-ever roller cam, pushed the envelope for drag racing, motorcycle racing and land-speed records.
Following in his father's footsteps, Doug set out to become a dominant player in the performance parts distribution business and Doug Herbert Performance Parts was fast becoming important customer of ours. Originally, SCE's sponsorship of Doug's Top Fuel team was based on a value-exchange of parts for advertising and happily, that later grew into a genuine personal friendship which remains today.
In the early days of our involvement, Doug's cars were tuned by Jim Brissette, himself a SoCal native and Nitro legend who is also in the International Drag Racing Hall of Fame. Jim tuned Doug to 4 IHRA championships, the quickest run in history in 1992 and the 2nd ever 300+ mph ¼ mile pass in 1993.
Later, the list of crew chiefs who worked with Doug reads like the Who's-Who of drag racing fame including Ed "The Ace" McCulloch, Dick LaHaie, Rob Flynn, Larry Frazier, Wayne DuPuy and others.
SCE Gaskets products were greatly improved through our association with Doug as we would often 'try out' new ideas and.. some of them worked!
Doug's racing continued strong through the early 2000's earning him 10 NHRA events wins. Many will remember the 2 minute "Burn-Down of all Burn-Downs" in 2002 when Doug and Clay Millican sat pre-staged for 2 minutes -burning nitromethane- until they were shut off by the NHRA race official in charge. It was after this staging duel that Doug earned the nickname "DougZilla".
Doug's personal, racing and business accomplishments are many and they endure today. Doug holds an Airline Transport Pilot rating, he continues to run his performance parts distribution business from Concord, NC, he is the co-host of Motor Racing Network's weekly podcast "The Straight Line" with Ralph Shaheen. And we think he'd be happy to jump right back into Top Fuel if the right package came together.
B.R.A.K.E.S.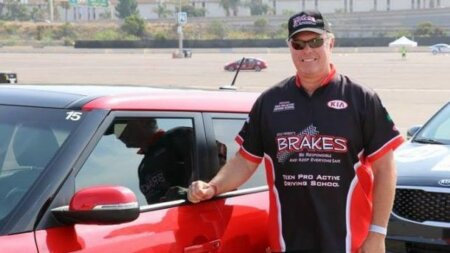 However, perhaps most notable of all his achievements, Doug Herbert turned a personal tragedy into a serendipitous blessing for teenage drivers and their families nationally and internationally. Doug's two sons, Jon and James aged 17 & 12 died in an auto accident in January 2008. Remarkably, Doug responded to this crushing loss by founding the Teen Defensive Driving program (appropriately named by Jon & James' friends) B.R.A.K.E.S. which stands for "Be Responsible And Keep Everyone Safe". Currently, the B.R.A.K.E.S. program has taught defensive driving skills to more than 35,000 teen drivers in 44 states and from 5 different countries; B.R.A.K.E.S. trained teen drivers are 64% less likely to be involved in a crash during their first 3 years of driving.
The memory of Jon & James Herbert is exquisitely honored by every teen driver who chooses to 'Be Responsible And Keep Everyone Safe' by learning defensive driving in the B.R.A.K.E.S. program. It is impossible to measure the worth and impact of a young life saved and so, we salute our friend Doug Herbert for his efforts to ensure that fewer teen lives will be lost in auto accidents.
Web Links:
» DougHerbertRacing.com 
» Doug's Facebook Page
» Doug's Instagram
» MRN The Straight Line Show / Podcast
» PutontheBRAKES.org
» BRAKES Facebook Page