Header Flames & Famous Names — a series highlighting SCE's favorite racers and friends
The Rat Trap
'The Rat Trap', built in 1968 at the shop of chassis builder Dennis Watson. A Fuel Altered, Independent front suspension, nitro burning, Hemi engine Beast! Recognized around the world.
The name Rat Trap was the product of the "engine wars" of the '60s when Chevrolet powered altereds (big block Chevrolet engines called "rat motors") challenged the Chrysler powered altereds. The Rat Trap was one of four cars which made up the legendary Fuel Altered Tours of 1970, '71, and '72. Other cars on that tour were Willie Borsch with the Winged Express, Pure Heaven II and the Magnificent 7.
Ron Hope – The Man Behind The Wheel
Ron's love for Fuel Altereds began during the mid-'60s. Ron was crew on the car in the late '60s and early '70s, but since it's recreation, he has been both owner and driver of The Famed Altered.
Ron has been married for over 45 years to his lovely wife Dianne. Together, they have raised six children, which have given them 20 grandchildren!
Hope Generations: Ron, Brian, and Michael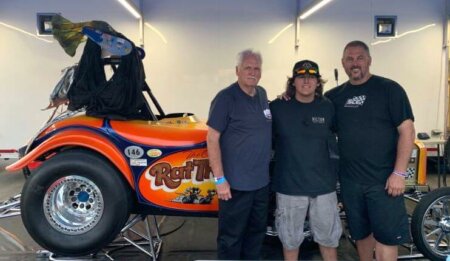 Ron Hope's son, Brian Hope, has been a longtime Crew Chief, and occasional driver, on his father's Nitromethane Nostalgia Fuel Altered, Rat Trap. Throughout the years, there have been multiple modified versions of the Rat Trap, for speed, and for a great show! When Ron and Brian are both piloting the cars, we see Brian's son Michael stepping into the Crew Chief spotlight!
Father's Day weekend, Michael was seen running from pit to pit helping not only for his Grandfather Ron Hope's Nostalgia Fuel Altered with the Rat Trap, but also with Hilton and Lee Top Fuel Dragster, Great Expectations III, and Tony Lombardi's 7.0 Pro Dragster, Ross Racing Engines. This year, Michael also completed his course for his Super Comp license at Frank Hawley's Drag Racing School. – Talk about keeping it in the family!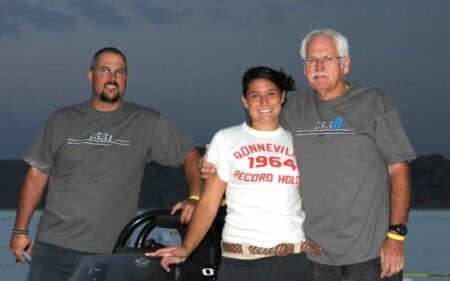 We talk a lot about the men in the racing community, but in the Hope family, there is one woman, working to build her own legacy! Victoria Hope, (Daughter of Brian) has also started making a name for herself. At the age of 16 Victoria completed passes at Bonneville, setting a record at 216 mph and for being the youngest male and female to go over 200 mph at Bonneville! She holds three total records in Ohio, North Carolina and Utah.
To continue her work in the field, we are proud to say, Victoria has been employed with SCE Gaskets for over two years now, working in sales, maintaining great customer relationships and the sweet voice on the phone, answering all your gasket needs! You will still see Victoria roaming the pits with her family, always cheering on the team. It's a pleasure to say, the Hunter and Hopes have been longtime family friends, as well as sponsors of the Rat Trap. There's something special about this family – and we couldn't help but share their story with you!
Follow Rat Trap:
» DougHerbertRacing.com
» Facebook.com/rattrapracing/ 
» Instagram tag
» Youtube search