Header Flames & Famous Names — a series highlighting SCE's favorite racers and friends.
---
BLOWNup Cobra Stepping Up the Game with Vulcan Cut-Ring
"MLS gaskets and a torched cylinder head determined it was time to step up to something that would hold the power, SCE Vulcan Cut-Ring head gaskets."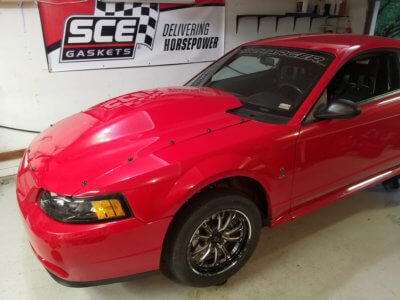 FROM 'CUDA TO COBRA
As a kid, Tyler Van Lant lived at the racetrack almost every weekend. He watched his father, Brad Van Lant, build engines and race in NHRA Stock and Super Stock. At 16, Tyler began his own racing story at the local dragstrip with his '73 Plymouth 'Cuda 340. Later, he worked his way through college by porting cylinder heads, earning a degree in mechanical and aerospace engineering
After college, Tyler put his engineering skills to work designing construction equipment allowing him to get back to his real passion, racing. Soon he bought a bone-stock 1999 Ford Mustang Cobra — for the purpose of this story we'll call it "BLOWNup Cobra 1.0". Within the first couple weeks, he broke the IRS rear axle and swapped it to a solid axle from a GT model. Shortly after that, the 5-speed transmission checked-out and was replaced by a T-56 6-speed. Naturally, it was time for more power, so Tyler pieced together all the supercharger components from a 2003-2004 Cobra and bolted them on.
PROCHARGER, NEW & OLD COBRAS 


In 2013, Tyler was hired at ProCharger as an Applications Engineer where he designed and developed supercharger kits for new Mustangs, Camaros and Corvettes. Later that year, Tyler sold the '99 Cobra and bought a 2013 Mustang GT, installing a supercharger kit in the first week.
It wasn't long before Tyler was getting kicked out of local tracks for not having a roll cage but he wasn't quite ready to weld a cage in a one-year-old car so, in late 2014 he sold the GT and bought the '99 Cobra back! Having already plumbed the depths of stock displacement with BLOWNup Cobra 1.0, in the off-months of 2014-2015 Tyler did an LS 6.0L swap into the Cobra — which for the purpose of this story we'll call "BLOWNup Cobra 2.0".
Tyler made his own supercharger bracket and 8-rib belt drive system to turn the F1R ProCharger and BLOWNup Cobra 2.0 progressed from the stock iron 6.0L turning 9.85 ET's to a stock shortblock LS2, to a forged shortblock LS2. Finally, he fitted the current engine: a Scoggin-Dickey-built, Dart-block based 400″ LS, with AFR LS3 heads, Holley Dominator ECU & Intake, and of course, an F3D-106 ProCharger driven by a ProCharger Crankdrive. It's making 1500whp!
At the start of 2018, Tyler was promoted to Lead Automotive & Motorsports Engineer at ProCharger. With Tyler's personal car more radical than anything in their stable, ProCharger would logically come to use it for development and testing. BLOWNup Cobra has been the test-bed for new ProCharger components such as the Crankdrive, Geardrive, ProRace Bypass Valve, new belt tensioners, Inlet Bells and many more.
HARNESSING 1500 HORSES:
Tyler stated, "At this power level MLS head gaskets were at their limit and a torched cylinder head determined it was time to step up to something that would reliably hold the power, SCE Vulcan Cut-Ring head gaskets. We've been using them on BLOWNup Cobra since the start of the 2019 season. We've made over 70 runs at 40 psi of boost and haven't had a single issue with these gaskets!" UPR suspension helps plant the Cobra which now blisters the eighth in 4.90 @ 147mph.
ProCharger's use of the Cobra for R&D has also been highly beneficial for Tyler's personal racing. Data collection and analysis that comes along with R&D has advanced the car's performance much more rapidly. At the track, Tyler develops close relationships with other successful racers by sharing his extensive knowledge of superchargers to gain knowledge about any number of other aspects of drag racing (torque converters, suspension, tuning, engine components, etc.).
Tyler built the BLOWNup Cobra to adapt to a variety of different classes simply so he can race more often, on radials or slicks, in 'prepped' or 'no-prep' events. Tyler still enjoys driving his Cobra on the street and prefers the car geared towards True Street classes. However, from one weekend to the next, the events can be drastically different.
As many readers will appreciate, this amount of work consumes most of Tyler's free time, but he and his friends enjoy the work from design to welding, wiring, component selection, assembly & repair, and everything in between. Tyler stated, "I'm extremely thankful to have such amazing friends and an awesome wife who is willing to put up with the long hours I spend in the garage! That's racing for ya!"
Web Links:
» Easy-to-share link for this post: SCEgaskets.com/blownupcobra
» BLOWNup Cobra – Facebook / Instagram 
» SCE – Vulcan Cut-Ring Head Gaskets
» ProCharger.com / Facebook / Instagram / Youtube 
» Street Muscle Mag feature 6-2018
» Read more HFFN posts:  SCEgaskets.com/news