SCE Gaskets Product Overview
All Products Overview with Ryan Hunter & Aaron Hunter
---
Vulcan Cut-Ring® Head Gaskets
A hybrid design forged to harness the best sealing properties of two head gasket types. Composite: pliable, perforated metal-core composite gasket body eliminates coolant and oil leaks. No sealant needed! Stainless Steel: solid stainless cut-ring 'bites' into the cylinder head forming a positive barrier against combustion pressure leaks. No machining required! More Info »
---
MLS Spartan™ Head Gaskets
Strong, Simple to Use & Ready for Battle. Advanced manufacturing ensures trouble-free, bolt-on performance without extra sealants. Available in 4 thicknesses: .028" .039" .051" .067"
Fluid sealant coating is applied to all inner and outer gasket plates. This proprietary method provides a continuous, unbroken coating that seals up to 60RA surface finishes on block and heads, and a superior cold seal. More Info »
---
Graph-Form™ Exhaust Gaskets
Graphite to take the heat. Extra thick to conform. Kevlar reinforced for strength.
Excellent for warped, pitted, or uneven surfaces. Great for welded header flanges, turbo flanges, collectors, cast iron exhaust, manifolds. Flexible .150" thick gaskets can compress up to .062". More Info – Sell Sheet PDF »
---
Pro-Copper® Head Gaskets
Not all solid copper gaskets are created equal. SCE uses premium 99% pure copper sheets rolled to our specifications (choice of 12 different thicknesses) and tested for uniform flatness to assure precise cylinder head-to-block alignment and eliminate uneven loading. After processing, each gasket is annealed to ensure optimum mating and provide measurable gains in-cylinder sealing, as evidenced by lower leak-down percentages. O-ringing recommended.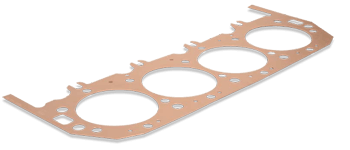 ---
Titan® – Copper Head Gaskets
SCE takes solid copper gaskets to the next level by adding patented coolant and oil seals to provide effective containment channels with a minimal clamping load. They are on both sides of the gasket and offset so that when compressed they lie in a single plane with the gasket body thereby "tripping" additional clamp load to the combustion seal, allowing for increased cylinder sealing. Titan gaskets are also available in NINE popular thicknesses.
---
ICS® – Copper Head Gaskets
(Formerly "ICS Titan") Patented Integral Combustion Seals perform the function of O-ringed blocks and heads without the added machining costs. They also provide extra sealing in high combustion pressure environments where rules prohibit O-ringing. The ICS features stainless steel O-ring wire inserted into the gasket body around the cylinder bore, with combustion pressure forcing the flanges against the head and block for a self-energized secondary seal. Coolant and oil seals also included.
---
Accu-Seal Pro® – Composite Head Gaskets
Here's an effective solution for providing excellent sealing in high-performance street and mild competition applications. SCE's unique Accu-Seal Pro composite gaskets feature only three elements: cold-rolled steel core with pure graphite facing attached to both sides, plus an extra thick steel fire ring armor. It's a purely compressible gasket that can handle up to 15 lbs. of boost or a 100-shot of nitrous, but won't damage aluminum heads like competitive designs with O-rings.
---
Accu-Seal Pro® – Embossed Steel Shim Head Gaskets
Many racers have come to prefer super thin, super strong embossed steel head gaskets to increase engine compression. SCE offers these hard-to-find gaskets for select performance applications.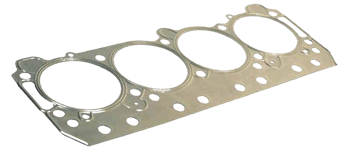 ---
Accu-Seal Pro® – Valve Cover & Pan Gaskets
One-Piece Molded Silicone Rubber Oil Pan & Valve Cover Gaskets
These state-of-the-art precision-molded gaskets provide a superior seal and can be reused time and time again. The one-piece design oil pan gaskets eliminate pesky leaks at the corners common to ordinary pan gaskets. Made of premium grade silicone rubber to resist heat damage and conform to irregularities in the sealing surface. Each gasket has built-in crush limiters to prevent damage from over-tightening.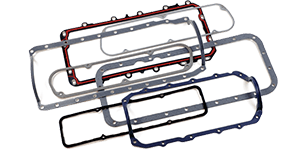 ---
Dyno-Paks® & Hundred-Paks™
Developed for professional engine builders and race teams, Dyno-Paks are a 'right sized' bulk program boxed in sets of 10 for safekeeping and substantial savings. This is ideally suited to dyno shops who repeatedly use only certain gaskets out of a complete set for component swaps, or builders who use a specific combination of gaskets in their most popular builds.
New Hundred-Paks are great for even bigger teams with sets of 100.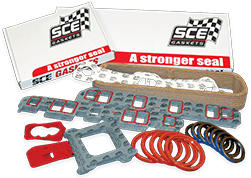 ---
Street Performance Valve Cover & Pan Gaskets
In addition to the Accu-Seal Pro® molded silicone gaskets, SCE offers High-Density Cork and Laminated Silicone/Cork gaskets. In the case of 2-piece sets, SCE offers companion seals.
---
Steel Core Oil Pan & Valve Cover Gaskets
SCE worked with top crew chiefs to develop a severe duty steel core material with compressibility for good sealing and enhanced lateral rigidity to prevent blowouts under high pressures. These gaskets are so effective that they are accepted by NHRA for supercharged nitro and alcohol applications. Recommended for cast valve covers or sheet metal covers and pans with billet flanges.
---
Exhaust Gaskets
Available for applications ranging from specialized racing engines to OEM replacement, SCE offers embossed copper (Pro-Copper®), high temperature reinforced composite, copper-clad composite and standard composite gaskets. These precision-made gaskets are available for virtually all aftermarket cylinder heads and designed not to impede exhaust flow.
---
Intake Gaskets
Our Accu-Seal Pro® premium intake gaskets are available for most applications. Constructed from the highest quality materials, with great tensile strength and high rubber content, and bead seals around each port in the majority of the range.
---
Specialty Gaskets
In addition to offering every gasket used in building an engine, SCE also offers a wide assortment of specialty gaskets used for myriad racing applications.
These include special high-temp gaskets for turbochargers, most everything you need to assemble a 71-series supercharger, protective screens and much more.
If there's something special you need made, chances are we can do it.
---