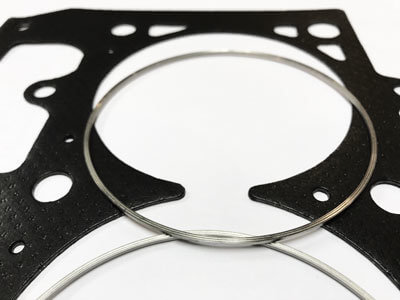 SCE President, Ryan Hunter, talks about Vulcan Cut-Ring.
A hybrid design forged to harness the best sealing properties of two head gasket types:
Composite
Pliable, perforated metal-core composite gasket body eliminates coolant and oil leaks. No sealant needed!
Stainless Steel
Solid stainless cut-ring 'bites' into the cylinder head forming a positive barrier against combustion pressure leaks. No machining required!
---
Designed for use with high static compression or forced-induction engines which are prone to combustion pressure leaks when using typical composite or MLS head gaskets. Especially 4-bolt-per-cylinder patterns such as BMW, Subaru, Toyota and Chevrolet LS series.

Engine Sealing Capability Exceeds:
16:1 Static Compression Ratio
35 lbs. Supercharged or Turbocharged forced induction
250 Shot of Nitrous Oxide
Popular Listings
| | | |
| --- | --- | --- |
| SCE Vulcan Cut Ring P/N | Description | UM |
| CR190559L | CHEVROLET LSX LEFT SIDE 4.056 "X0.059″" Vulcan Cut-Ring" | EA |
| CR190559R | CHEVROLET LSX RIGHT SIDE 4.056 "X0.059″" Vulcan Cut-Ring" | EA |
| CR191559L | CHEVROLET LSX LEFT SIDE 4.150 "X0.059″" Vulcan Cut-Ring" | EA |
| CR191559R | CHEVROLET LSX RIGHT SIDE 4.150 "X0.059″" Vulcan Cut-Ring" | EA |
| CR191759L | CHEVROLET LSX LEFT SIDE 4.174 "X0.059″" Vulcan Cut-Ring" | EA |
| CR191759R | CHEVROLET LSX RIGHT SIDE 4.174 "X0.059″" Vulcan Cut-Ring" | EA |
| CR199959L | CHEVROLET LSX LEFT SIDE 3.997 "X0.059″" Vulcan Cut-Ring" | EA |
| CR199959R | CHEVROLET LSX RIGHT SIDE 3.997 "X0.059″" Vulcan Cut-Ring" | EA |
| CR200559 | CHEVROLET/GM LS 346-364 4.056 "X0.059″" Vulcan Cut-Ring" | EA |
| CR201559 | CHEVROLET/GM LS 4.150 "X0.059″" Vulcan Cut-Ring" | EA |
| CR271055 | CHEVROLET/GM LT1/4 376 14-UP 4.100″X0.055″ Vulcan Cut-Ring | EA |
| CR271555 | CHEVROLET/GM LT1/4 376 14-UP 4.150″X0.055″ Vulcan Cut-Ring | EA |
| CR272055 | CHEVROLET/GM LT1/4 376 14-UP 4.200″X0.055″ Vulcan Cut-Ring | EA |
| CR330003 | FIAT PUNTO 1400cc 81.50mm X 1.80mm Vulcan Cut-Ring | EA |
| CR330005 | RENAULT R5 GTT 77.00mm X 1.80mm Vulcan Cut-Ring | EA |
| CR330006 | PEUGEOT TU5JP-TU5J4 1.6L 80.50mm X 1.00mm Vulcan Cut-Ring | EA |
| CR330007 | PEUGEOT TU5JP-TU5J4 1.6L 80.50mm X 1.40mm Vulcan Cut-Ring | EA |
| CR330008 | FIAT ALFA SU 85.40mm X 1.50mm Vulcan Cut-Ring | EA |
| CR330009 | RENAULT R5 GTT 77.50mm X 1.80mm Vulcan Cut-Ring | EA |
| CR330010 | FIAT PUNTO 1400cc 82.00mm X 1.80mm Vulcan Cut-Ring | EA |
| CR330011 | BMW 325-525 M50 E36-249cc 86.00mm X 1.60mm Vulcan Cut-Ring | EA |
| CR330012 | BMW 325-525 M50 E36-249cc 84.50mm X 2.00mm Vulcan Cut-Ring | EA |
| CR330013 | BMW 325-525 M50 E36-249cc 86.00mm X 2.00mm Vulcan Cut-Ring | EA |
| CR330014 | BMW 325-525 M50 E36-249cc 87.00mm X 2.00mm Vulcan Cut-Ring | EA |
| CR330015 | BMW 3-(E30)325 85.50mm X 2.00mm Vulcan Cut-Ring | EA |
| CR330016 | BMW M30 93.10mm X 2.00mm Vulcan Cut-Ring | EA |
| CR330017 | BMW M30 95.60mm X 2.00mm Vulcan Cut-Ring | EA |
| CR330020 | BMW S50 B30-32 87.10mm X 1.80mm Vulcan Cut-Ring | EA |
| CR330021 | BMW S14B23 95.00mm X 2.00mm Vulcan Cut-Ring | EA |
| CR330022 | BMW M54B25-30 86.00mm X 1.50mm Vulcan Cut-Ring | EA |
| CR330023 | BMW M54B25-30 87.60mm X 1.50mm Vulcan Cut-Ring | EA |
| CR330024 | BMW M60 B40 RIGHT SIDE 90.60mm X 2.00mm Vulcan Cut-Ring | EA |
| CR330025 | BMW M60 B40 LEFT SIDE 90.60mm X 2.00mm Vulcan Cut-Ring | EA |
| CR330026 | BMW M62 448 S2 RIGHT SIDE 93.60mm X 2.00mm Vulcan Cut-Ring | EA |
| CR330027 | BMW M62 448 S2 LEFT SIDE 93.60mm X 2.00mm Vulcan Cut-Ring | EA |
| CR330028 | VOLVO B23-230 97.10mm X 2.00mm Vulcan Cut-Ring | EA |
| CR330029 | FORD COSWORTH 3.599 "X0.051″"(91.40X1.30mm) Vulcan Cut-Ring" | EA |
| CR330030 | FORD COSWORTH 3.626 "X0.051″"(92.10X1.30mm) Vulcan Cut-Ring" | EA |
| CR330031 | FORD MEBA-REBA X 3.843 "X0.039″"(97.60X1.00mm) Vulcan Cut-Ring | EA |
| CR330032 | FORD MEBA-REBA SX 3.843 "X0.039″"(97.60X1.00mm) Vulcan Cut-Ring | EA |
| CR330037 | BMW S54 B32 87.50mm X 1.20mm Vulcan Cut-Ring | EA |
| CR330038 | MITSUBISHI 4G63 EVO 4-9 86.30mm X 1.30mm Vulcan Cut-Ring | EA |
| CR330039 | LANCIA DELTA 8-16V 85.50mm X 1.80mm Vulcan Cut-Ring | EA |
| CR330040 | SUBARU WRX 100.00mm X 1.20mm Vulcan Cut-Ring | EA |
| CR330041 | SUBARU WRX 93.50mm X 1.20mm Vulcan Cut-Ring | EA |
| CR330042 | MITSUBISHI LANCER EVO 87.50mm X 1.20mm Vulcan Cut-Ring | EA |
| CR330043 | PORSCHE 968 3L 105.00mm X 1.60 mm Vulcan Cut-Ring | EA |
| CR330044 | TOYOTA 2JZGTE 3.0L 87.00mm X 1.60mm Vulcan Cut-Ring | EA |
| CR330045 | FORD FOCUS RS & ST 5 CYL TURBO 3.308 "X0.063″"(84.00X1.60mm) | EA |
| CR330046 | FORD ESCORT COSWORTH 3.626 "X0.078″"(92.10X2.00mm) Vulcan Cut-Ring | EA |
| CR330047 | AUDI S2 5CYL 20V 83.50mm X 1.60mm Vulcan Cut-Ring | EA |
| CR330048 | AUDI S2 5CYL 20V 82.00mm X 1.60mm Vulcan Cut-Ring | EA |
| CR330056 | VOLVO ANFORD DURATEC 89.00mm X 1.20mm Vulcan Cut-Ring | EA |
| CR330057 | MAZDA A BP 84.50mm X 1.40mm Vulcan Cut-Ring | EA |
| CR330058 | MITSUBISHI EVO3 86.50mm X 1.30mm Vulcan Cut-Ring | EA |
| CR330061 | BMW M1 PROCAR M 95.00mm X 1.30mm Vulcan Cut-Ring | EA |
| CR330062 | OPEL C20XE 88.00mm X 1.60mm Vulcan Cut-Ring | EA |
| CR330063 | FORD COSWORTH 3.642 "X0.051″"( 92.50X1.30mm) Vulcan Cut-Ring" | EA |
| CR330064 | FORD DURATEC 2.0/2.3L 3.485 "X 0.051″"(88.50X1.30mm) Vulcan Cut-Ring | EA |
| CR330065 | FORD DURATEC 2.0/2.3L 3.308 "X 0.051″"(84.00X1.30mm) Vulcan Cut-Ring | EA |
| CR330066 | SUBARU EJ25 101.30mm X 1.20mm Vulcan Cut-Ring | EA |
| CR330067L | NISSAN GTR V6 LEFT SIDE 100.50mm X 1.00mm Vulcan Cut-Ring | EA |
| CR330068R | NISSAN GTR V6 RIGHT SIDE 100.50mm X 1.00mm Vulcan Cut-Ring | EA |
| CR330069 | BMW M49 95.00mm X 1.30mm Vulcan Cut-Ring | EA |
| CR330070 | BMW N20 85.00mm X 1.20mm Vulcan Cut-Ring | EA |
| CR330071 | MITSUBISHI 3000GT 93.50mm X 1.20mm Vulcan Cut-Ring | EA |
| CR330072 | AUDI RS3 84.00mm X 1.40mm Vulcan Cut-Ring | EA |
| CR330073 | BMW F10/F13 90.50mm X 1.10mm Vulcan Cut-Ring | EA |
| CR330074 | BMW N54 86.00mm X 1.50mm Vulcan Cut-Ring | EA |
| CR330075 | BMW M42 86.50mm X 2.00mm Vulcan Cut-Ring | EA |
| CR330076 | SUBARU WRX 100.00mm X 1.20mm Vulcan Cut-Ring | EA |
2020-06